The AeroPress®
Most people think that brewing a good cup of coffee 'must be complicated and expensive.' The AeroPress Coffee Maker helps home baristas achieve the world's smoothest, richest brew, ---at a fraction of a price.
LEARN MORE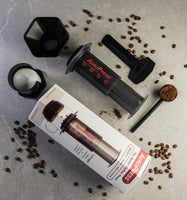 THE AEROPRESS GO
The AeroPress® GO
The AeroPress Go is slightly smaller but it gives you all the great brewing capabilities
of the original AeroPress packed inside a mug with a lid that makes it easy to transport.
You can have delicious AeroPress brewed coffee while camping, traveling, boating, at
work, or wherever you go.
Who Loves the AeroPress?
Produces a much better espresso style coffee than many home machines that costs twenty or thirty times as much.

Kenneth Davids
If you're serious about brewing your coffee when traveling, this is the kit for you.

wired.com